Take complete advantage and control of your home network
These days, every household has more than one computer. Also, since the advent of broadband and wireless technologies (Wi-Fi) over the last decade, many other personal electronic consumer devices have been designed to share and integrate with your home network.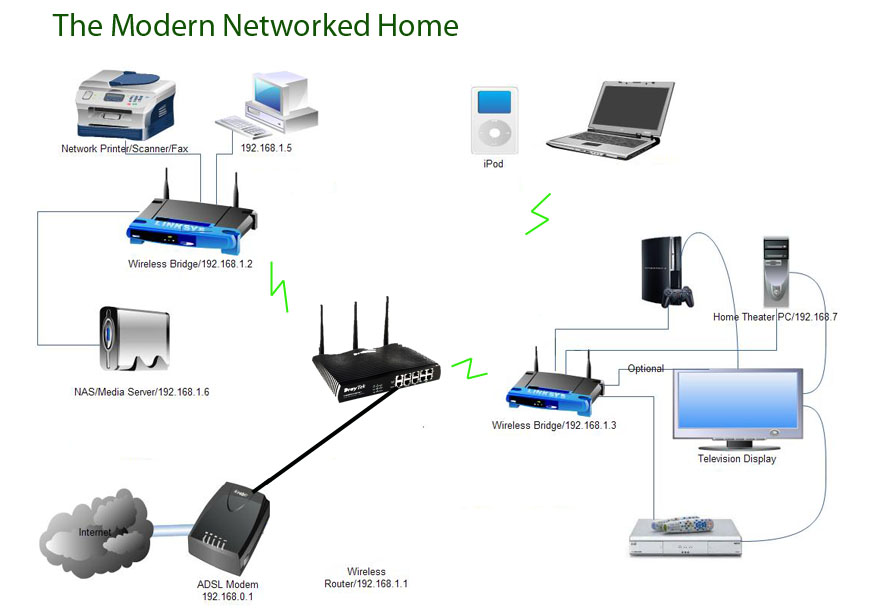 From your computer to your laptop.
Multi-function printer/ scanner to your computer gaming console
Smartphone to your network attached storage (NAS) device
Television & music centre to your home CCTV unit
And many, many more…
All of these devices have the capability of connecting to your home network. So the possibilities are literally endless. Taking this into account, it is also possible to access your personal home network from any remote location such as your office, an airport, or while on holiday. With several proven technologies, we can help you access your personal files from anywhere in the world, whenever you need to. Furthermore you don't have to leave your computers turned on either. We can show you how to remotely turn on your computer and then turn it off when you are finished. Above is an example of a modern home network showing a variety of personal electronic devices networked together. Contact Green Cloud Computers today to discuss improving your home network.