I.T. Phone Home
"The only limitation to your impact is your imagination and commitment" – Tony Robbins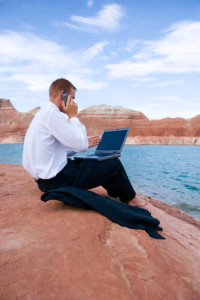 With modern broadband in most situations being readily available the need to be in your office and working is a thing of the past. For the past decade, Remote Access technology has been tried, tested and constantly improved. From its beginnings in VPN and Dial-Up networking to today's ultra fast broadband and wireless technology the capabilities of working from remote locations has come on leaps and bounds.
How many times have you been away from your Home or Business Computer/ Network, and you realise you have forgotten an important document? I imagine this problem has happened to you at least once, if not more! This concept may sound familiar to you, as it's the theme to a popular internet based remote control product for your computer. This is one option for accessing your office remotely.
Other popular technologies in the remote access arena include:
Virtual Private Networking – VPN for short and now SSL-VPN a much more secure version have been used extensively by SMEs and Corporations alike to provide remote access to employees when on the road.
Computer Remote Control – There are several remote control applications available today such as VNC, PC Anywhere, LogMeIn, and Teamviewer to name but a few which can connect to your computer from anywhere so long as you have an internet connection. It's almost as if you are sitting right there but in reality you could be in a different hemisphere.
Remote Desktop/ Terminal Services – Another form of remote control but with a dedicated server to manage remote sessions. The benefits of a dedicated server allows for numerous employees to connect in but to one server, which will help reduce the network usage overhead.
If your office is a home office and you are conscious of leaving your computer running 24/7, with a special feature available on some routers, called Wake On LAN, it is possible to switch it on remotely also.
For further information on our Remote Access Solutions, let us know your requirements.