Little fluffy clouds
"Our industry is going through quite a wave of innovation and it's being powered by a phenomenon which is referred to as the cloud." – Steve Ballmer, Microsoft
Cloud computing is indeed one of the big technology buzz words of the last 5 years. But what is Cloud Computing exactly?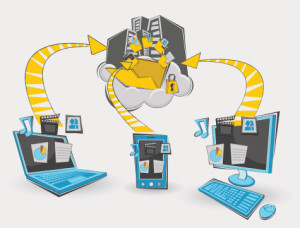 In a nutshell, cloud computing is a type of internet service which means that instead of a business owning it's own hardware or software, they can access both in the form of a product or service from a cloud hosting company (e.g. Google, Amazon, Blacknight) also known as a Datacentre. There are also several forms of cloud computing. Public and Private cloud being the main types. For a further in depth description I'd suggest Googling it, if it takes your fancy.
So how can your business utilise cloud computing I hear you say? Well. While the whole concept is quite brilliant we would advise you to not jump in at the deep end as there are a few caveats to cloud computing.
Dual Internet Connections – The main caveat is the requirement for a decent internet connection. If your internet is offline, then your business and therefore your access to the cloud is offline, which can be costly. For this very reason, internet connection redundancy/ failover is highly recommended for your cloud solution. In other words, a second or even a third internet connection from a separate ISP provider, e.g. Primary connection: Eircom, Failover connection: UPC. To do this though you will need a router that allows for failover. This is where we come in.
Data Security – Cloud computing means entrusting your data to the internet. Do you trust leaving your sensitive data on someone else's server? Even if your hosting company has the most advanced security systems in place, it is often said that the biggest threat is from the inside, i.e. a disgruntled employee. Another worrying issue is the actual cloud host company losing or corrupting your data. It doesn't happen often, but a recent survey produced some worrying statistics.
Lack of support – Customer service for web services and applications leaves alot to be desired. All too many, cloud-based apps will leave you to troll through endless forums for solutions to your problems. Failing that, if it's out of normal business hours in most cases you will have to make do with emailing your query to the providers support desk, in the hope of receiving a response within 24 hours (sometimes 48 hours).
That said, there are still many benefits to using the cloud to run your business. The main factor being reduced operating costs. No more need to house, secure, power, cool, and maintain your own server.
However, for many small businesses these days we would recommend the use of a Network Attached Storage (NAS) device to store data locally for use during the day. Some of our clients who were using cloud services before meeting us often complained of poor performance day to day when working direct from the cloud. Using a NAS drive on site means that all data can be securely located on site and then backed up to a cloud technology after hours. NAS devices are also a fraction of the cost of a typical file server.
To find out more about cloud computing and your business, don't hesitate to get in touch.