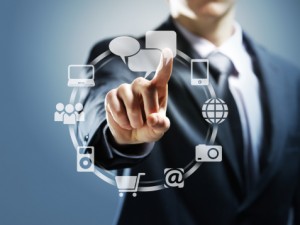 "The name's Bond. …" Well, you know the rest—explosions, fast women, faster cars, one-liners, and gadgets…lots of gadgets…

One of the reasons for the enduring popularity of James Bond movies are the super-cool gadgets, a set-piece since Ian Fleming's Bond-novels first hit the silver screen. Remember the smartphone-like Ericsson concept Pierce Brosnan used to drive his 'Bondified' BMW by remote control in Tomorrow Never Dies? That was 1997. Today, many of the things only James Bond could do, anyone can do—with a smartphone. Not the explosions and such obviously, but still…

Smartphones have revolutionised the way we use telecommunications, and are revolutionising society itself to some extent. Pushing the James Bond-style gadgets to the next level, Google recently presented the Google Glass, which responds to voice commands and displays results on a tiny screen. That's not just secret agent stuff—that was once touched on inStar Trek!

But development will not stop at computerised Trekkie-glasses or a Pebble watch, and R&D gurus are racing each other to surpass these. The term for the next generation of portable computer technology is wearables. Worn like an accessory (e.g. a watch, earpiece, etc.) or integrated in a piece of clothing, just about any interaction technology can be made wearable. One market that has already profited is sports gear—just think about the Fitbit, which is essentially a pedometer…smartphone…thingy. It takes your pulse, calculates the calories you burned, and posts it all to Facebook to amaze (or bore) 1,273 of your 'friends'. Experts now say that CPU power and memory won't be an issue for further development, and even prices for sensors are dropping. So what's hindering the wearable revolution?

Well, battery life for one, and cost. Wearables that will be powerful enough to be able to do everything on their own will likely be quite expensive. Moreover, a battery that can be taken seriously is rather tough to squeeze in a light-weight wearable device. That is where experts believe the smartphone will come in: it will be the heart and brain of your wearable devices. The wearables will have the sensors and send the data to the phone via Bluetooth, and the smartphone will do the processing of the data and manage internet connectivity. Meanwhile, wearables will need less hardware and will rapidly become more affordable. So wearables will not only be for secret agents—you'll be out there yourself, foiling evil-doers and saving England, and perhaps even the world, from disaster. And most importantly, you'll look well doing it…
The team in Green Cloud Computers are always working hard to stay on top of emerging technology, so that our customers can keep ahead of the competition. We have many customers in Ashbourne, Ratoath, Meath and surrounding counties, if you would like to work with us, call us!